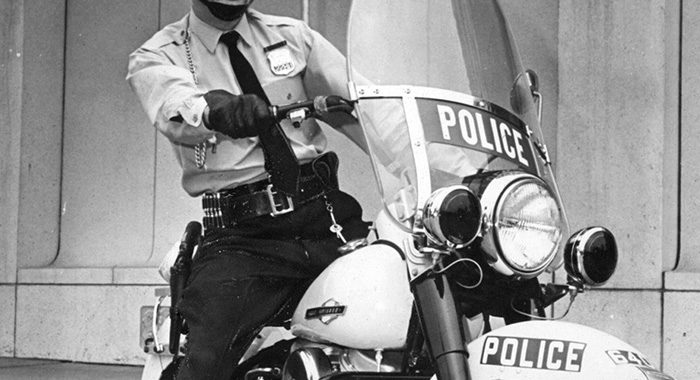 Of duty, a motorcycle, and Tommy Gibbons
March 27, 2019
The hero cop who became a famed reporter will have his day.
This article was originally published on 3/26/2019 for philly.com and written by Stu Bykofsky
Duty first.
A ceremony scheduled for Tuesday at which a gleaming, loaded Harley-Davidson was to be presented to the Philadelphia Highway Patrol was postponed when the elite unit was reassigned to escort the funeral procession for firefighter Michael Bernstein, who died Wednesday while on duty.
The motorcycle was to have been presented in memory of Thomas J. Gibbons Jr., who served four years in Highway Patrol until he was critically wounded in a 1970 ambush.
Physically unable to return to active duty, in 1972 Tommy came to the Evening Bulletin as a police reporter. The Inquirer lured him away in November 1981, two months before the Bulletin folded.
By the time Tommy retired in 2005, he was one of the most popular journalists in the city, loved by colleagues and competitors alike. He was unfailingly friendly to everyone, and dressed better than anyone.
He enjoyed his career as a reporter, but nothing meant more to him than his years in the Highway Patrol, says his widow, Carol. They had been married 47 years when Tommy died of brain cancer a year ago.
Tommy's father, Thomas J. Gibbons Sr., was a cop who became police commissioner in 1952. There was little doubt Tommy would become a cop, although his close friend Walt Hunter, the retired CBS3 investigative reporter, says Tommy had a secret yen to be a firefighter.
Carol and Tommy met on a Friday night 50 years ago at the Shack on Roosevelt Boulevard. He approached her and said, "Don't our plaids match?" He was wearing a Glen Plaid sport coat and she was wearing a Glen Plaid dress.
"It was a good line," Carol tells me. A handsome 6-footer, Tommy looked good in Glen Plaid, but even better in his polished Highway Patrol boots, breeches, and white helmet.
"Tommy was a great cop and it was the sorriest day of his life when he had to step down," says Maureen Rush, president of the Philadelphia Police Foundation, which pitched in with Tommy's family and friends to raise the $20,300 for the Harley that will carry saddlebags with Tommy's name.
Rush is now superintendent of police at the University of Pennsylvania, but met Tommy after she — as a rookie Philadelphia police officer — got into a face-to-face showdown with an armed robber.
By then at the Bulletin, Tommy wrote the story as a Mexican standoff.
When the Harley is presented, "Tommy will be doing an Irish jig in heaven," says Rush.
Because I was Daily News and he was Inquirer, I knew Tommy mostly by byline and reputation, until one day in 1983 in the Temple University faculty lounge.
Going into Christmas break, the school threw a wine and cheese cocktail party for the adjunct faculty. It was nice enough, and as it began to dissipate, Tommy said, "Hey, pal, you want to have a pop and shoot some pool?"
"Pal" was his favorite salutation, and "pop" meant a real drink, not wine.
"He didn't like to miss a party and was the last one to leave," says Carol.
For the next two hours in the faculty lounge, we talked, drank, and shot pool. Before long, neither of us could sink a ball. A friendship was born.
On the day Tommy retired after 24 years with The Inquirer, he was escorted into the newsroom by then-Police Commissioner Sylvester Johnson, because the cops first had a sendoff for him at Police Headquarters, the Roundhouse.
Why the escort by Johnson?
"We rode right next to each other on the [Highway Patrol] drill team for three or four years," Johnson tells me. Tommy was "an outstanding officer," Johnson says, and a reporter who stuck to the facts.
Another fact-based reporter, two-time Pulitzer winner Bill Marimow, worked alongside his friend Tommy before becoming his boss at The Inquirer. When five Dallas police officers were ambushed in 2016, Marimow asked Tommy if he would write about his own near-death experience 46 years earlier.
"Although he'd been retired from The Inquirer by then for more than a decade, Tom — as always — did what was required," recalls Marimow. "Within a few hours, he had sent us a dramatic, seamless, and poignant account of how he was nearly killed during a car stop in West Philadelphia."
Tommy's byline appeared on Page One. Not for the first time, but for the last time.
I'll be there, Pal, when that Harley is presented to the Highway Patrol.