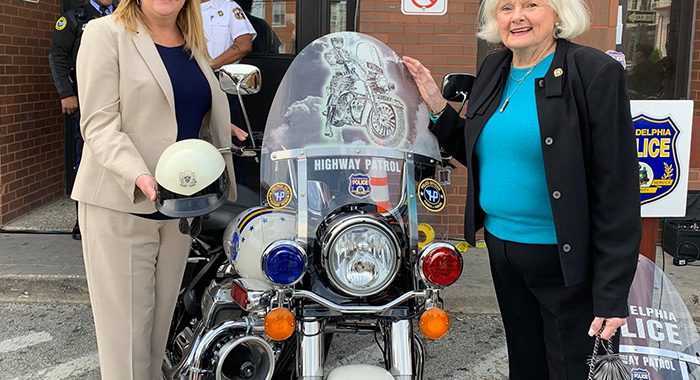 Thomas Gibbons Remembrance
April 30, 2019
On Monday, April 29 at the 18th Police District 5501 Pine Street) a press conference took place to remember and celebrate the late Thomas Gibbons, an elite Highway Patrol Officer who passed away from brain cancer just over 1 year ago. After his passing, the Gibbons family set out to raise funds through donations to the Philadelphia Police Foundation to purchase a motorcycle in his memory that would be donated in his name to the Highway Patrol.
Gibbons was shot while on duty on Aug. 30, 1970, as a member of the Highway Patrol. Son of former Philadelphia Police Commissioner Thomas J. Gibbons, Tom, Jr., retired on disability in 1972 and thereafter joined the Inquirer as a reporter with a focus on crime news. The Police Foundation augmented the Gibbons Family's fund-raising efforts to help purchase the new motorcycle for $20,300. Gibbons' wife Carol and daughter Carey are shown here next to the motorcycle that now bears his name and badge number.
This is the 14th new, fully police-accessorized motorcycle that the Philadelphia Police Foundation has purchased for the Highway Patrol in the past two years.